Kia Carnival Owners Manual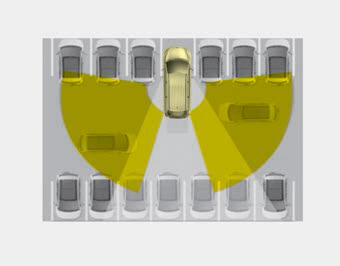 When your vehicle moves backwards from a parking position, the sensor detects approaching vehicles to the left or right side direction and gives information to the driver.
Operating conditions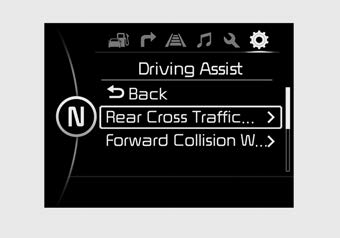 Type B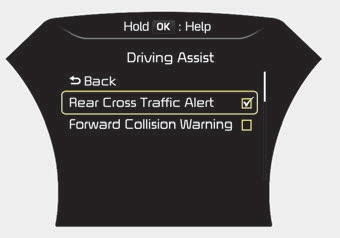 Type C
Select RCTA (Rear Cross Traffic Alert) in "User Settings" under "Driving Assist" on the instrument cluster. The system will turn on and standby to activate.
Select RCTA again, to turn the system off.
If the vehicle is turned off and on again, the RCTA system will return to the state right before the vehicle was turned off. Always turn the RCTA system off when not in use.
The system operates when the vehicle speed is below 10 km/h (6.2 mph) with the shift lever in R (Reverse).
The RCTA (Rear Cross Traffic Alert) detecting range is 0.5m ~ 20m based on the side direction. If the approaching vehicle speed is 4 km/h (2.5 mph) ~ 36 km/h (22 mph) within sensing range, it is detected. However, the system sensing range is different base on conditions. Always pay attention to the surrounding.
Warning type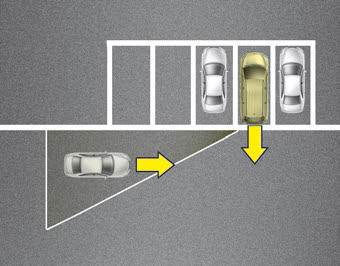 If the vehicle detected by sensors approaches your vehicle, the warning chime will sound and the warning light will blink on the outside rearview mirror.
If the detected vehicle is out of the sensing range of your vehicle, move the vehicle away from the detected object slowly; the warning will be cancelled.
The system may not operate properly due to other factors or circumstances. Always pay attention to your surrounding.
❈ If your vehicle's left or right side bumper is blinded by barrier or vehicles, the system sensing ability may be deteriorated.

WARNING
The Blind Spot Detection System with Lane Change Assist and Rear Cross Traffic Alert is not a substitute for proper and safe lane changing procedures. Always drive safely and use caution when changing lanes. The Blind Spot Detection System may not detect every object alongside the vehicle.

CAUTION
The system may not work properly if the bumper has been replaced or if a repair work has been done near the sensor.
The detection area differs according to the roads width. If the road is narrow the system may detect other vehicles in the next lane.
On the contrary, if the road is very wide the system may not detect other vehicles.
The system may turn off due to strong electromagnetic waves.










© 2020 www.kiacarnivalmanual.com. All Rights Reserved.